BRONX . BROOKLYN . MANHATTAN . QUEENS . STATEN ISLAND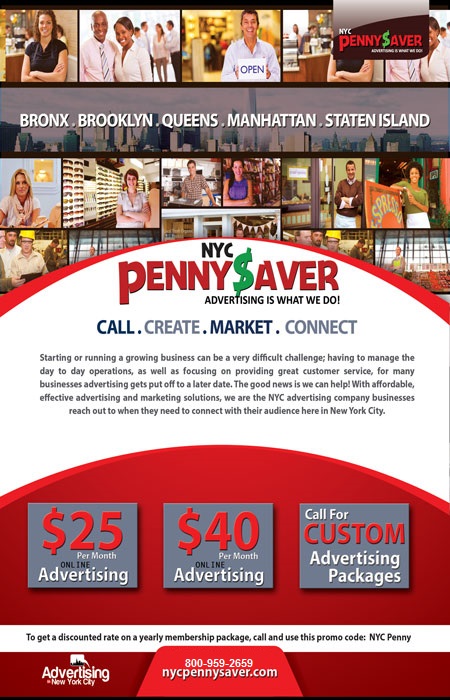 Welcome To

The

New York City Pennysaver
With an ever growing community base, NYC Pennysaver is the most complete and trusted small business advertising platform.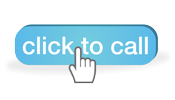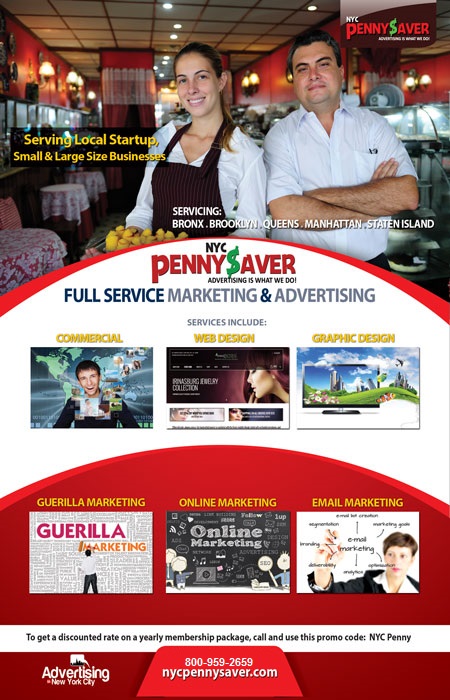 The NYC Pennysaver is your central location for all information regarding local Pennysavers in New York City and your resource for targeting those that live in the NYC area.
The Pennysaver provides information and updates to advertisers, partners and affiliates and those that live in the NYC area with up to date information about Pennysavers in New York City and the different channels advertisers can utilize to deliver their message.
Pennysavers in NYC are delivered door to door for free, left at commercial drop off's and are even directly mailed your home. The NYC Pennysaver network with the local Pennysavers and give you a central location to stay up to date with the latest promotions and city wide news regarding everything Pennysaver! The NYC Pennysaver is also looking for those sales professionals and community builders to join our team.
We have great opportunities for those individuals who can hit the ground running. The Pennysaver is a local resource, and NYC is where many local communities love their Pennysavers.
Below are our many Pennysaver advertising platforms feel free to select the one you would like to promote your company on or call 1-800-959-2659 and inquire about our multi-site package deals
Advertising Sales
Advertise with The NYC Pennysaver
Lots of services geared towards small businesses, and independent contractors. Make sure to ask about about our amazing package deals. Advertising is what we do!
Advertising Sales